On Sunday 02 April at the La Salette golf course in Marseille, there was a FIFG 500 tournament of the World Tour. World event and a lot of live videos have been realized on different social networking account.
This sensitized the attention of some Internet users who followed the competition and highlighted the failure of Mark Scotchford about the rules. Namely: there is no momentum to tap his ball in a bunker.
Decision taken by AFFG after viewing the video: 2 penalty points, a world first. And accept by the Briton who has in any case the honesty to acknowledge his fault.
Le dimanche 02 Avril au golf de La Salette à Marseille a eu lieu un tournoi FIFG 500 du World Tour. Evénement mondial et beaucoup de vidéos en live ont été réalisé sur les différents compte des réseaux sociaux.
Ce qui a sensibilisé l'attention de certains internautes qui suivaient la compétition et a mis en évidence la défaillance de Mark Scotchford au sujet des règles. A savoir : il n'y a pas de pas d'élan pour taper son ballon dans un bunker.
Décision prise par l'AFFG après visionnage de la vidéo : 2 points de pénalité, une première mondiale. Et accepter par le Britannique qui aura eu en tout cas l'honnêteté de reconnaître sa faute.
Mark Scotchford : "What happened in the bunker on the 15th hole in Marseille was a total
lapse in concentration, it had been a tough few days physically and I guess it took its toll on me, I totally accept the penalty shots as I have been playing this great sport long enough to know the rules and know the importance of keeping to them". "Ce qui s'est passé dans le bunker sur le 15e trou de Marseille a été une défaillance totale, il s'agissait de quelques jours difficiles physiquement et je suppose que cela m'a coûté cher, j'accepte totalement les coups de pénalités parce que je joue à ce formidable sport depuis assez longtemps pour connaître les règles et connaître l'importance de les conserver."
The opportunity for us to discover Mark Scotchford who nevertheless performed on this competition by finishing in the top 10 of the FIFG 500 L'occasion pour nous de découvrir Mark Scotchford qui a malgré tout performe sur cette compétition en terminant dans le top 10 du FIFG 500
How did you find this route from Marseille? Comment as-tu trouvé ce parcours de Marseille? "The course in Marseille was absolutely fantastic, a true test skill, power and endurance, and not forgetting concentration". "Le parcours de Marseille était absolument fantastique, une vrai teste pour les compétiteurs, puissance et endurance, sans oublier la concentration."

A victory in FIFG 50 and a good place on this FIFG 500, you prove this season? Training? Une victoire en FIFG 50 et une belle place sur ce FIFG 500, tu te révéle cette saison? L'entrainement ? "Yes it has been a very good start to the season for me, but I have worked very hard through the winter, working on all aspects of my game especially approach play and course management". "Oui, cela a été un très bon début de saison pour moi, mais j'ai travaillé très dur pendant l'hiver, en travaillant sur tous les aspects de mon jeu, en particulier l'approche du jeu et de la gestion des différents parcours".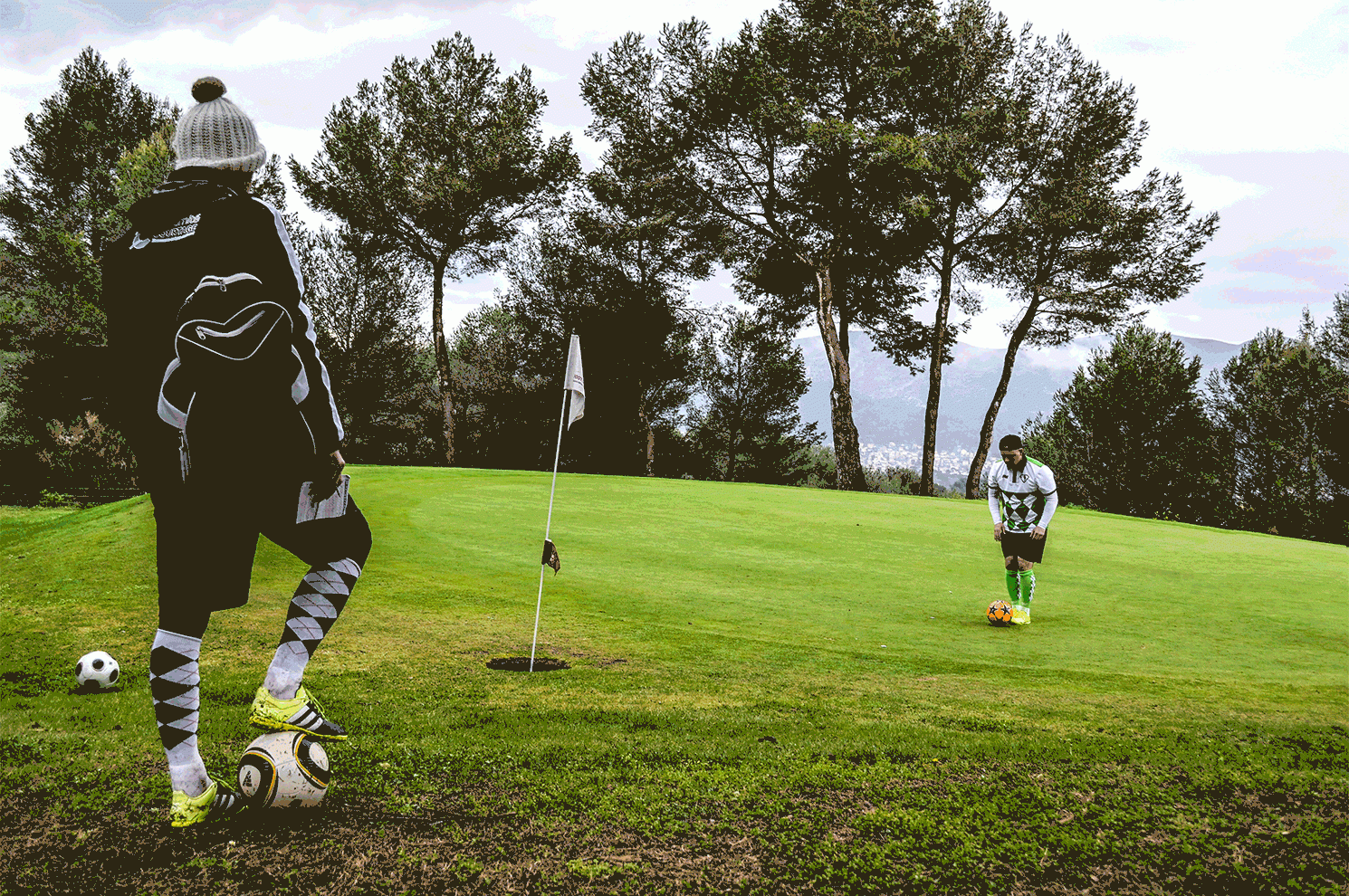 Your object on the world tour? Tes objectifs sur le world Tour? "If I'm honest my priority will always be the UK Tour, but I am attending a number of World Tour events at home and overseas, the French open, Italian open, The Vegas open to name a few". "En étant honnête, ma priorité sera toujours le championnat du Royaume-Uni, mais je participe à un certain nombre d'événements du World Tour, à la maison et à l'étranger, l'Open de France, l'Italian Open, the Vegas Open pour n'en nommer que quelques-uns."

What do you think about using the video? Que pense-tu d'avoir utiliser la vidéo? "The FootGolf is already more advanced than football?The video aspect of the game will become more and more common so I guess moving forward it will only help the sport grow which of course is a positive." "L'aspect vidéo du jeu deviendra de plus en plus fréquent, donc je suppose que cette avancée ne contribuera qu'au développement du sport, ce qui est évidemment positif."

"To finalise, I want to say for the record, I never meant to take a step before my shot and I want everyone to know I would never break a rule to gain an advantage against my opponents, I hope this hasn't had a negative impact on my reputation, I also believe they are lucky to have Paul Oliver on the French Footgolf Cup, I have every bit of faith that it's people like PO who will enable this sport to grow to where it belongs.
I also want to thank all my UK teammates for their support"
"Pour finir, je veux dire que je n'ai jamais voulu prendre un pas avant mon coup et je veux que tous sachent que je ne briserais jamais une règle pour prendre un avantage contre mes adversaires, j'espère que cela n'a pas eu d'impact négatif sur ma réputation, je crois aussi qu'ils ont de la chance d'avoir Paul Oliver sur la FootGolf Cup, j'ai le sentiment que ce sont des gens comme PO qui vont permettre à ce sport de devenir ce qu'il doit être !
Je tiens également à remercier tous mes coéquipiers britanniques pour leur soutien"