Le vice champion de Belgique, David Aerts, pointe à la 17e place de l'European Trophy suite à sa 3e place lors d' l'Open d'Allemagne.
Belgian vice-champion David Aerts is 17th in the European Trophy following his third place finish at the German Open.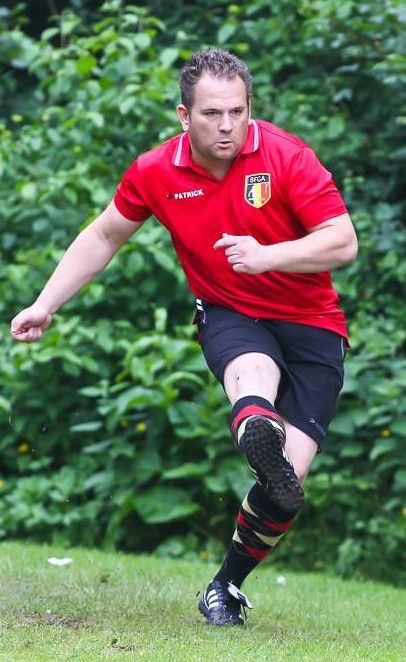 Club : Team FootGolf NL (Hollande)
Belgian vice champion
Palmarès 2016 :
Second place Belgian Open
Third place German Open
Depuis combien de temps joues-tu au footgolf?
How long have you been playing footgolf?
"Je joue au footgolf depuis l'été 2012. Un ami me demande de faire un tournoi de footgolf et depuis ce jour j'aime le FootGolf.Cette année"
"And how did you discover this sport? I am playing footgolf since the summer of 2012. A friend asks me to play a round of footgolf and since that day I was loving footgolf."
Quels sont tes objectifs pour ce tour Européen? What are your goals for this European Tour?
"J'espère pouvoir atteindre le podium, peut-être une victoire ;-), au Portugal ou au Maroc et que je serai dans le top 15 du classement général. Au début de l'année, j'aurai été heureux avec une place dans le top 30, mais maintenant je veux plus. Chaque année, il sera difficile d'atteindre le sommet parce que le niveau du sport est s'élève chaque année de plus en plus."
"You are not far from victory as at home in Belgium! I hope I can reach the podium, maybe a victory ;-), in Portugal or Morocco and that I will be in the overall standing for 2016 in the top 15. In the beginning of the year I would be happy with a place in the top 30 but now I want more. Every year it will difficulty the reach the top because the level of the sport is every year higher and higher."
Un mot sur Alex Richer et Jim Kuipers, on se dirige vers un beau duel pour la finale?
The big duel announced between Jim and Alex...
"Alex et Jim sont en 2016 les meilleurs joueurs que j'ai vu et c'est déjà un grand honneur de pouvoir jouer avec ces 2 grands joueurs. Alex a un très beau et puissant drive et Jim est le joueur le plus technique à mes yeux Qu'importe le vainqueur du tour Européenne 2016, Alex ou Jim, ils le mériteront".
"Alex and Jim are in 2016 the best players I have seen and it is a great honor that I already could play with these 2 great players in 2016. Alex has a really nice and hard shot and Jim is more the technical player in my eyes. The final in Marrakesh between them will be great. Who will be the winner of the European tour 2016, Alex or Jim, he will deserve it."
Y a t-il un championnat en Belgique - Quel est votre classement en Belgique? Is there a championship in Belgium - What is your ranking in Belgium?
"Il y a eu un championnat de Belgique en 2016 sur 6 rounds et Joeri Jolling a été le vainqueur de ce championnat. Je suis arrivé juste derrière lui."
"There was a Belgium championship in 2016 over 6 rounds and Joeri Jolling was the winner of this championship. I was on the second place, on this moment I am the number 2 off Belgium behind Joeri Jolling."
Joues-tu dans un club? Comme il y en a en France? Do you play in a club? As there is in France?
"Je joue dans un club mais pas en Belgique, je joue pour Footgolf NL une équipe en Hollande.Une équipe vraiment forte avec Jim Kuipers, Michael Wilkes, Joeri Jolling et d'autres grands joueurs Hollandais. En ce moment, nous jouons une compétition hivernale en Hollande. Et après 3 rounds, je suis à la 3e place, mais il y a encore 6 rounds à faire !"
"I am playing in a club but not in Belgium, I am playing by Footgolf NL a team in Holland. A really strong team with Jim Kuipers, Michael Wilkes, Joeri Jolling and other great Dutch players. On this moment we are playing the winter competition in Holland. In the overall standing after 3 rounds I am now on the 3th place but there are still 6 rounds to go."
Avez-vous un message à transmettre à vos coéquipiers? Et aux joueurs Français? Do you have a message to pass on to your teammates? And the French?
"Je veux dire à mes coéquipiers de garder le bon esprit et continuer à améliorer votre niveau en 2017 comme vous l'avez fait tous en 2016. Jusqu'à la première victoire Belge sur le Tour Européen. Je souhaite à tous les joueurs français bonne chance dans les dernier 2 tournois en 2016. L'année prochaine, vous me verrez à coup sûr à l'Open de France !"
"To my teammates I want to say keep up the good spirit and keep improving your level in 2017 like you all did in 2016. Up to the first Belgian victory in the European footgolf tour. I wish all the French players good luck in the last 2 tournaments in 2016. Next year you will see me for sure back on the French open."